Double Chocolate Ceremony Cacao Cake
 Ingredient list: for the cake mix. 
– 1/2 cup all purpose flour.
– 1/2 teaspoon baking powder.
– 1/4 teaspoon salt.
– 2 1/2 Tablespoon finely grated cacao into a cacao powder form.
– 2 ounces cacao chopped, sliced off the brick of cacao.
– 2 ounces unsalted butter. room temperature.
– 1/3 cup granulated sugar.
– 2 large eggs, room temperature.
– 1/4 cup milk.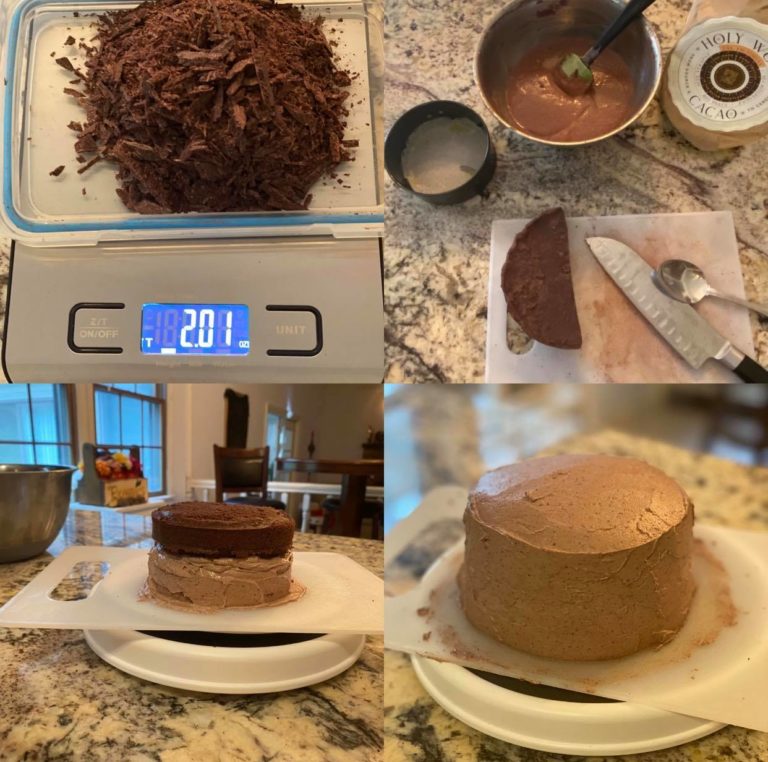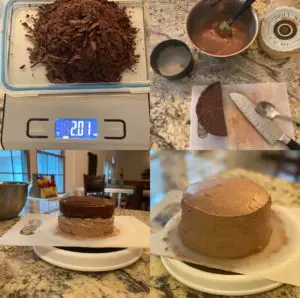 Instruction: for the cake.
1.Preheat oven to 325 degree F.
2.Line the bottom of a 4 inch springform pan with parchment paper and grease the sides of pan.
3.Medium size mixing bowl, sift together the flour, baking powder, salt and cacao powder, set aside.
4. Add 2 ounces cacao to a small bowl. adding very little boiled water about 175 degree F. Carefully add the hot water over the cacao, stir it up until it's like a paste, then add just a few more drops of hot water,Stir together a little more just enough to make it look like melted chocolate.
(tips…you do not want it to runny if that happens add a little more cacao it's okay )
5.Large bowl beat the butter and sugar until light and fluffy. About 4-5 minutes.
6. add the eggs to the butter and sugar one at a time while beating, then the milk and mix all together.
7.Fold in the flour mix and cacao chocolate into the butter mix fold until well mixed and smooth.
8. Pour the batter into the springform pan and bake for 30 minutes. Until a toothpick comes out clean when inserted in the center. 
(tips…Depending how your oven is celebrated)
9. Remove the cake from oven and allow to cool in pan for 10 minutes.
10. Place cake onto cooling rack and remove the parchment paper. Allow to cool completely.
11. Once cool, Cut the cake in half to make 2 cake layer. set aside.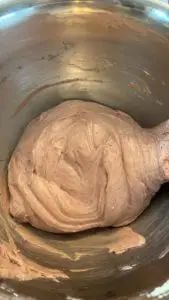 Ingredients: for cacao frosting.
-1 cup unsalted butter, room temperature.
-3 cups powder sugar.
– 1 1/2 ounces cacao melted.
1.Cream the butter and powdered sugar using a hand or stand mixer until light and fluffy.
2. Mix in the melted cacao chocolate. (tips make the same way as before with boiled water about 175 degree F.) set aside for 1 hour to firm up.
Now it's time to put it all together!!!
1.Set 1 of the cake halves onto a flat surface that you can move. Spread 1/4 cup of the chocolate frosting onto the cake top.Place the other half of cake on top.
2. Spread and even layer of frosting all over the cake in a thin layer. and refrigerate for 30 minutes.
(tips…don't worry about cake crumbs, it's okay for this layer)
3.Remove the cake from fridge and add another layer of frosting smoothing with an offset Spatula.
4.Refrigerate for 30 minutes.
5.Optional…Adding fresh fruit to the top or decorating with icing for a special occasion.
Tips…Best kept refrigerate until ready to eat, bring out 30 minutes to an hour before serving.
Enjoy…
Benefits of Cacao
A delicious source of magnesium to boost energy level.
Cacao contains anandamide which creates a sense of happiness in mind.
It increases blood flow to the skin surface, which makes your skin glow.
Due to its richness in dietary fibre, it improves digestion.